At The Branded Coffee Co, we strongly believe that great coffee should be available to everyone anywhere, anytime. Which is why we have worked hard to create Emme Mac Black premium coffee blends and accessories that can be enjoyed by all.
1. Our 100% Compostable Coffee Capsules are Nespresso Compatible
We don't believe that you need a big fancy coffee machine that takes up your entire bench, to have a great coffee. So step away from the coffee machine manual as thick as the yellow pages, and cancel that barista class; because your next mouth watering and energy inducing coffee is only a click of one simple button away. At The Branded Coffee Co we understand that you want a high-quality, sustainable coffee fast, which is why all of our coffee capsules are compatible with popular coffee machines such as the range from Nespresso.
Don't have a coffee capsule machine? No problem! We have our very own coffee capsule machine available, that we know will quickly become the most loved item in your kitchen. It's compact and sleek design makes it versatile and easy to use, and with two programmable cup sizes for Espresso and Lungo as well as a manual extraction mode so you will be able to enjoy a cafe-like coffee any time of the day, exactly the way you like it.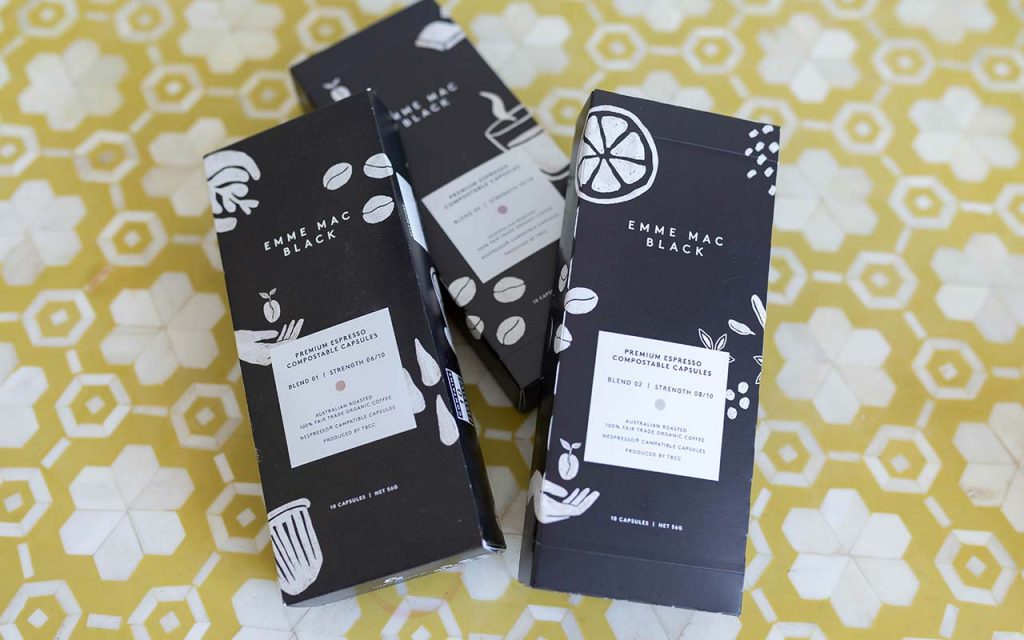 Both images by @tamikakeioskie
2. We Have a Range of Premium Coffee Blends Available
Whether you prefer your coffee served black, with the perfect milk to coffee ratio or just a pinch of sugar, everyone has a unique perception of what flavours make up the perfect coffee blend. Which is why we have spent the time creating a unique range of blends that will appeal to each individual's personal tastes. The Emme Mac Black range boasts three signature blends, each with a unique flavour palette. And the best part about our range? Each blend has been created sustainably using Fair Trade and 100% Certified organic ingredients.
Emme Mac Black Blend One: This dreamy blend of Arabicas is full of personality, rich in flavour and has an unforgettable lasting creamy texture. Delivering a fine espresso taste whether served black or with milk, this is one blend that can be easily enjoyed all day long.
Emme Mac Black Blend Two: The smooth and creamy texture of this full-bodied coffee delivers notes of raisin, spice and citrus with only a hint of acidity. The beauty of this blend comes as the complex flavours linger on the palate before leaving you with a long, clean cocoa finish.
Emme Mac Black Blend Three: Need something to give you a quick burst of energy to tackle your next task? Then this is the blend for you! Our third blend is the most powerful and bold of our range, providing a full bodied dark roast flavour, this is one blend that is guaranteed to put that extra pep in your step.
Can't decide which one to try because they all sound so good? Don't worry we face the same struggle! Which is why we have created the Emme Mac Black Six Pack, so you can take your time to enjoy and sample the whole range or change it up daily depending on whichever blend you are craving.
3. We Ship Australia Wide and more
Like we said at the very beginning, we believe that great coffee should be available to everyone – anywhere, anytime. Which is why we ship all of our delicious coffee blends and coffee accessories Australia wide! While the timeframes and cost of delivery will vary depending on your location, we will do everything in our power to deliver your desired blends and products to you as quickly as possible. Because we know that the world is just that little bit more wonderful when you have a fantastic coffee in hand.
But wait, you live overseas? Well, don't worry because we have you covered too! We can indeed ship our products internationally. All you need to do is simply get in touch with our team to discuss all the important details, and before you know it – access to delicious high quality coffee will be at your door.
Coffee has long been a much enjoyed way of bringing people together and over the years it has become a well known symbol of comfort, love, friendship and warmth. When we created The Branded Coffee Co, we wanted to capture this coffee culture and have it filter through everything that we do. As you can see from the above points, by incorporating inclusivity into our brand and our products we have been able to do exactly that – create a coffee brand that can be enjoyed by everyone; anywhere, anytime.